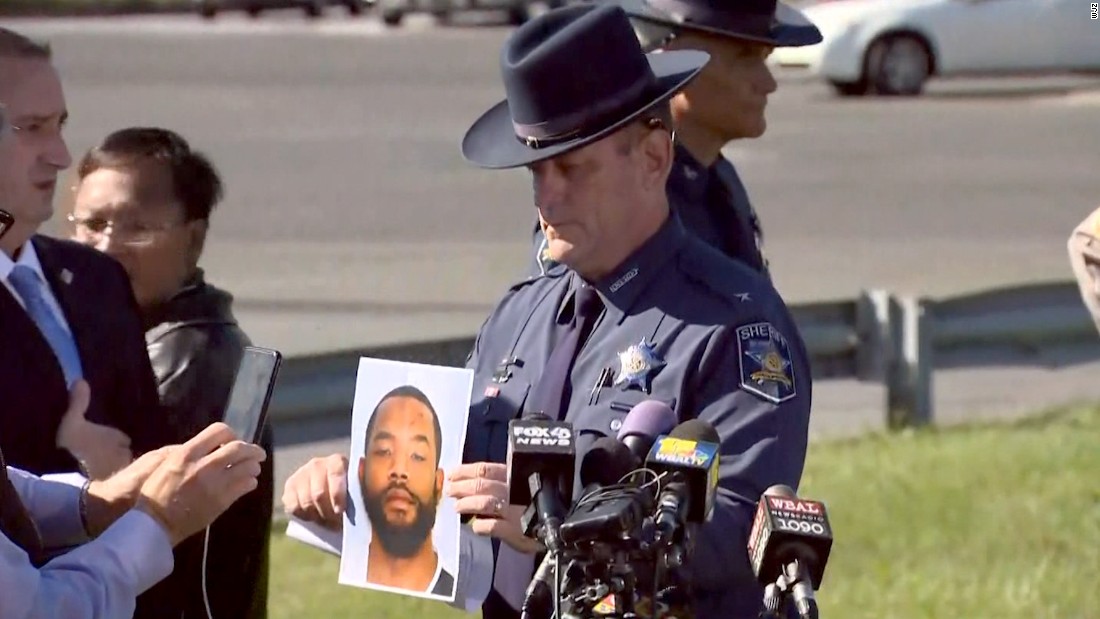 (CNN)Life is still miserable in Puerto Rico, one month after Hurricane Maria. These numbers help explain why. Here's what else you need to know to Get Up to Speed and Out the Door. (You can also get "5 Things You Need to Know Today" delivered to your inbox daily. Sign up here.)
The man accused of
killing three people
at a home-remodeling business in Maryland is in custody after a massive, daylong manhunt. Police said Radee Labeeb Prince, 37, opened fire at his workplace in Edgewood, Maryland. Prince is also accused of crossing into Delaware and shooting a man at a car dealership. Despite taking a bullet to the head, that man was able to give police Prince's name and a description of his vehicle. Prince knew all of his victims, so police don't consider these shootings random. Prince — smoking a cigar — was arrested near a high school in Newark, Delaware.
2. Niger attack
President Trump getting into a war of words with someone isn't exactly news anymore. This time, though, the war of words involves a Gold Star family. Trump pushed back against
a Florida congresswoman's claim
that he made insensitive comments to the widow of a US serviceman killed in that ambush in Niger. In a tweet, he said Florida Rep. Frederica Wilson fabricated her story — and that he had "proof." The serviceman's mother backed up Wilson; people who were in the room with Trump back up the President's account; and the White House said there's no recording of the conversation.
The saddest part of this controversy is that it's overshadowing the sacrifice that four heroes made for their country.
You can read more here
about Sgt. La David Johnson, Staff Sgt. Bryan Black, Staff Sgt. Jeremiah Johnson and Staff Sgt. Dustin Wright.
3. Heath care
Well, that was quick. The much-ballyhooed
bipartisan health care deal
has "stalled out." It's mainly because President Trump pulled his support for the Senate deal, which would have
restored Obamacare cost-sharing reduction payments
for two years in exchange for more state flexibility. Just a day earlier, the President had signaled that he'd back the deal. So, it looks like the GOP will have to wait until next year to — let's all say it together — repeal and replace Obamacare.
4. Richard Spencer
5. Insects
Insects are in serious decline in some parts of Germany, and that could spell bad news for all of us. A new study found flying insect populations in German nature reserves dropped an "alarming" 75% over almost three decades. Scientists fear that if this is happening in protected areas, it could be happening "everywhere" — and that would have far-reaching consequences for the world's crop production and natural ecosystems. Climate change, pesticides and loss of habitats likely caused the declines,
the study says
.
THIS JUST IN …
BREAKFAST BROWSE
People are talking about these. Read up. Join in.
Pack a towel
Joining the resistance
If you build it …
Still on the job
NUMBER OF THE DAY
350
The number of workers being laid off at SeaWorld. Attendance at its parks
continues to decline
in the wake of the controversy over "Blackfish."
QUOTE OF THE DAY
"We lost one of the very best of us this morning. Gord was my friend. Gord was everybody's friend."
AND FINALLY …
'The voice inside sings a different song'
Read more: www.cnn.com