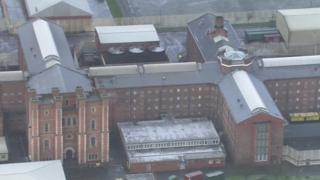 Prison inspectors need more funding to hold the government and prison boss to account when incarcerates have "urgent and serious failings", MPs have said.
A Justice Committee report comes after the BBC uncovered the appalling conditions at Liverpool Prison .
The MPs pointed out that inspectors had made recommendations in 2015 but it "did not result in improvements".
Chief inspector Peter Clarke said too many prisons failed to take inspection reports seriously.
He described this as an "abject failure" that "must stop".
The MPs report focused primarily on Liverpool Prison but alerted the jail was "not unique", adding that its problems were "symptomatic of shortcomings evident across the prison estate".
Key recommendations from the report include 😛 TAGEND additional funds for HMIP to hold prisons to account when they do not achieve recommendations greater scrutiny of major contracts at prisons and penalties for providers who fail to meet their obligations for the Ministry of Justice and HM Prison and Probation Service to publish a plan to resolve persistent overcrowding( 71 of 116 UK prisons are currently overcrowded) Media captionChief inspector of prisons criticises on Today management of prisons "at all levels" Image caption Inspectors determined cockroaches and rats at HMP Liverpool