Former champion dominates Viktoriya Tomova while Victoria Azarenka is well beaten by Karolina Pliskova on Centre Court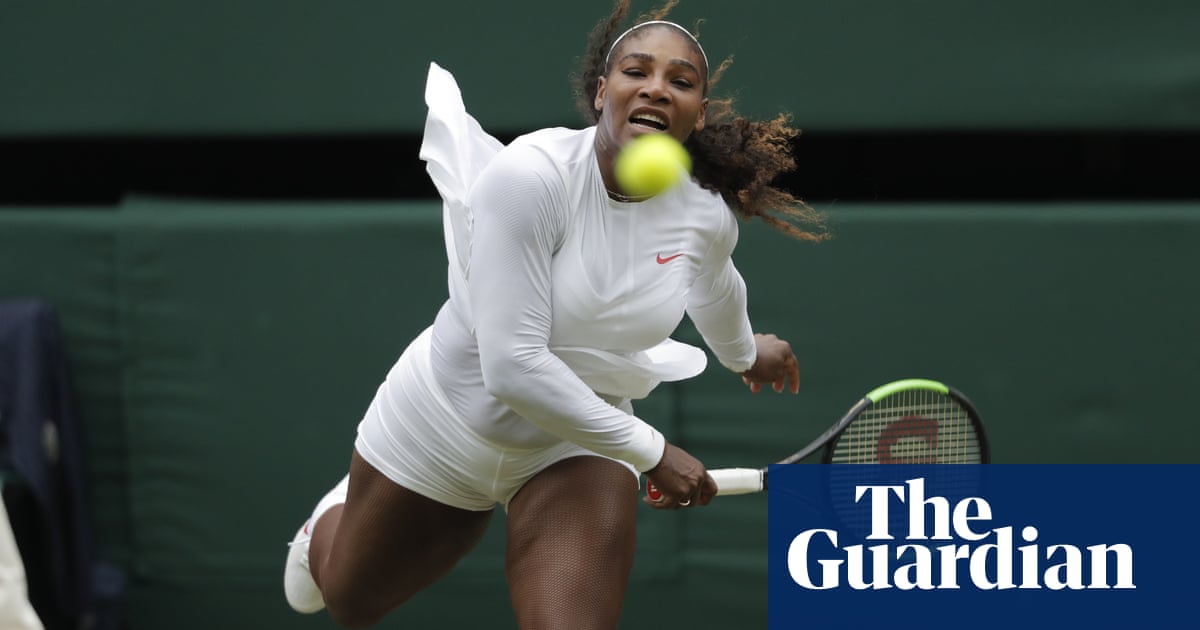 Three women at this tournament will be remembered as champions of struggle against all odds long after they stop playing: Petra Kvitova, Victoria Azarenka and Serena Williams – but only one is still standing after three days.
Williams, the game's newest mother, handily beat the world No 135, Viktoriya Tomova, 6-1, 6-4 in 66 minutes on Wednesday and moves on in the draw after the departure of the other two, who left with something between a bang and a whimper.
If the 36-year-old seven-times champion can keep her recovering right shoulder in working order (after hitting a 123mph top speed on Monday, she reached 117mph here), she should have few problems in the third round.
But the eighth seed Kvitova, 28, who is doing well to be playing at all after surviving a knife attack at her home in December, 2016, was a shock three-set loser to the Bulgarian Aliaksandra Sasnovich in round one.
And for the 28-year-old Azarenka it was not such a wonderful Wednesday, either. After getting past Ekaterina Alexandrova in the first round, she lost to Karolina Pliskova in an hour and 12 minutes, an emphatic full-stop to this chapter of her comeback at a place where she has enjoyed much success in 12 visits.
However, she has the consolation of playing in the mixed doubles with Jamie Murray, who has changed his mind about defending the title he won last year with Martina Hingis.
Since Azarenka returned here a year ago – six months after the birth of her first child, Leo (the day before Kvitova's attack, as it happens) – she has endured a spirit-draining custody battle with her estranged partner.
"A lot of people don't really know on a daily basis the things that I have to go through, and that's OK," she said of her ongoing legal entanglement with Billy McKeague.
"But I think physically I'm very fit right now, probably better than I have ever been before. I don't question if I'll ever get back to the top. But the timing and the patience is a challenge. I have to accept it might take a bit more time."
As with Williams and Kvitova, tennis has been Azarenka's safe haven. "I was excited to be on Centre Court again," she said.
Reminded that Wimbledon had finally allocated two women's matches there in the same session, she said: "I hope it will be the last time we have to talk about it this way. It will be a real progress if we stop saying 'for the first time in the history'. I'm glad it's moving in the right direction."
The world No 87 got the gig on Wimbledon's show court not so much on form but because of the quality of her seventh-seeded opponent, and her own history, here and elsewhere. The two-time Australian champion could look back on two Wimbledon semi-finals, stopped on each occasion by the eventual champion – Kvitova in 2011, Williams the following year – as well as quarter-finals against Williams in 2009 and two years ago, with the American again going on to win the title each time.
That is a quality pedigree but a worn one. And, even though she had beaten Pliskova this season – during a wonderful run in Miami – she could not resist the all-round quality of her game on a mild, muggy Wednesday, bedevilled by flying ants. When the Czech, who is in the third round for the first time, cranked her serve up to 115mph, life was tough for Azarenka, who saved four of seven break points in the first set but was spent in the second.
It was in the shorter rallies where she also suffered, as Pliskova got the quick kill in 49 of 81 exchanges of four shots or fewer. Pliskova was worth her 6-3, 6-3 win and next plays the Romanian Mihaela Buzarnescu, who earlier beat Britain's Katie Swan 6-0, 6-3.
For Williams, the years alone should represent a challenge but, since giving birth to Olympia in September, blood-clotting has plagued her and she has worked harder than for a long time to get match-fit in what will be the closing days of her storied adventure.
Ranked 181 and seeded 25, she played like a world No 1 in a one-sided match against the determined but outclassed Tomova. The first set took 23 minutes and some of Williams's forehands whizzed by her hapless opponent at speeds a lot of players would gladly claim for a second serve. It was one of those days when not even Centre Court was big enough to accommodate her power or her majesty.
Asked later what she loved about being American – on the 4th of July, of course – Williams paused, picked her words and said: "You know, I just spent my whole life … was raised in America, Compton, California. I have wonderful memories of growing up, being able to have an opportunity to play tennis and to travel the world. I'm really grateful for that."
Some would call that damning with faint praise. Others might say it sent a clever subliminal message that she knows her country is not perfect. Or maybe she was just tired at the end of a long day.
Read more: www.theguardian.com