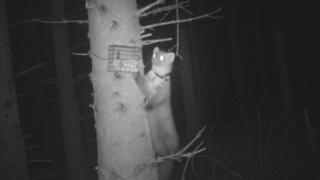 A straying pine marten amazed experts by setting up a new home, 60 miles from where he was reintroduced.
He was caught on camera in Clocaenog Forest near Ruthin, Denbighshire, about 100 km from the Ceredigion forest where the animals were relocated in 2015.
The male was first snapped in May 2016 and has stayed there ever since.
Dr Jenny MacPherson of the Vincent Wildlife Trust said: "He's patently procured everything he requires – that usually means a mate and food."
The pine marten project manager added: "It may be another female already there – we would expect he'd need a reason[ to bide ].